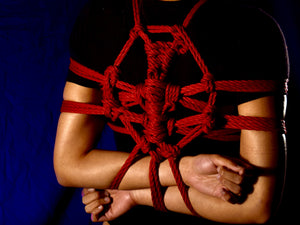 Single Kazami Level 1 class (3 hours total)

3-Class Kazami Level 1 package (9 hours total)
See Calendar for class availability
Classes are valid for 1 year from date of purchase
Any pre-purchased classes move with the student when you graduate to the next level (you do not have to pay a difference)
Each small group class has limited space. RSVP in order to attend a specific day here.
Kazami-Ryu Shibari Level 1
In this class, students will learn the Kazami-ryu chest harness. One of the most comfortable and stable chest harness's ever designed.
Kazami-ryu Takatekote (chest harness)
How to tie it and understand why you are tying it in this fashion.

Tension - why it's important and how to create it in the chest harness
Safety and emergency procedures.
Identifying nerve paths and tying around them
what to do in emergency situations.
Additional Curriculum: 
Futomomo (non suspension, 3 variations)
Connective Bondage
Rope Handling 
Graduation is not necessarily just completing the class. Students must demonstrate the ability to consistently tie a suspension worthy 3 rope chest harness in 7 minutes and 30 seconds.