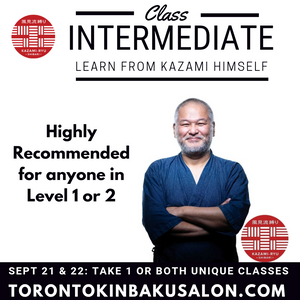 Kazami will be teaching an Intermediate class during an upcoming visit. One is on Wednesday Sept 21st and the other is on Thursday Sept 22nd. Each day will be unique and different.Come learn from the man himself.
Price is per day. Price includes a tying pair (rigger and model).
Each day will be unique and different. To RSVP to both, add the first to your cart and then go back and add the 2nd day.
Prerequisites: Being able to tie a solid TK
 Note: We do not accept cash or payment at the door option for this event. Due to limitations in our shopping cart it is listed as a payment option during checkout. Please do not select this, as your ticket is not valid until it is pre-paid.