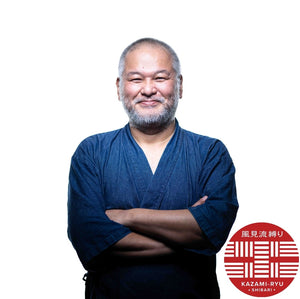 Kazami will be teaching an advanced weekend intensive class during his upcoming visit .  He will be teaching some harnesses, suspension poses and transition sequences in his own unique and interesting style, which emphasizes balanced poses, emphasizes the beauty of the models and sustainability of the poses, harnesses and the manageability of the transitions (for both the model and the rigger)
Price includes a tying pair (rigger and model).
Prerequisites: Being able to tie a solid TK and familiarity with lifeline management and suspensions.
10am-5pm both days
BIO – KAZAMI RANKI
Although he is nicknamed the "Atrocious Nawashi", Kazami Ranki's Kinbaku truly highlights the nature and spirit of the woman in her tied element. He believes the model should be tied to enhance her beauty, while still feeling the strength and power of the bondage. He is the organizer of SM events mainly in Tokyo and Osaka, including his regular event LIBIDO "Bakuetsu no Utage" "Kinbakuyugi-Gekitotsu". He is also holding regular live shows around Japan and Internationally and has appeared in numerous DVDs. He has been tying for around 30 years, with over 20 of those years in a professional capacity.
Internationally he has performed and taught in London at the Festival of the Art of Japanese Bondage and in Australia at the Sydney Rope Festival as well as other individual workshop events in the UK, Canada, USA, Australia, New Zealand, Taipei and Europe.
All ticket sales are final.
 Note: We do not accept cash or payment at the door option for this event. Due to limitations in our shopping cart it is listed as a payment option during checkout. Please do not select this, as your ticket is not valid until it is pre-paid.