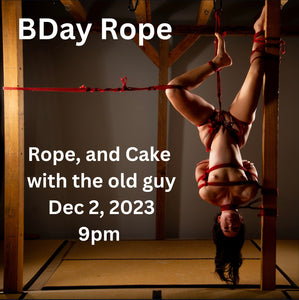 BDay Rope Dec 2nd - 9pm to Late - by RSVP only
BDay Rope - Saturday Dec 2 from 9:00pm to late - by RSVP only.
Come do rope, have some cake or treats and help the old man have a good day by doing one of his favourite things (one of his favourite things is providing a safe space for everyone to enjoy rope).

The Bday Rope Event is a rope focused party where all are welcome, no matter their level of rope experience, tying style, if they've been to Salon before or not, etc. This is a time to enjoy tying or being tied, or just socializing with other rope people. It's also a great way to meet that elusive rope partner or make a new rope friend! If you are feeling unwell or may have been exposed to someone with Covid, please stay home. You can message TorontoKinbakuSalon@gmail.com for a refund. Please let us know as soon as possible for any cancelations as we may have a wait list. No shows will be asked to prepay in the future in order to RSVP.